What makes OTO Adore Foot so special?
A stylish and adorable foot massager with a compact design gives your tred,
aching feet a litle tender loving care with it's unique foot reflexology features.
• 24 massage knobs in different shapes and sizes cover various reflexology points
on the sole of each feet.
• 2 sets of knobs target the sides of each ankle.
• 2 air bags on sides of feet create a wrap around effect and hold the feet firmly
for an enchanced massage experience.
• 3 massage modes with combinatons of air and acupressure points massage.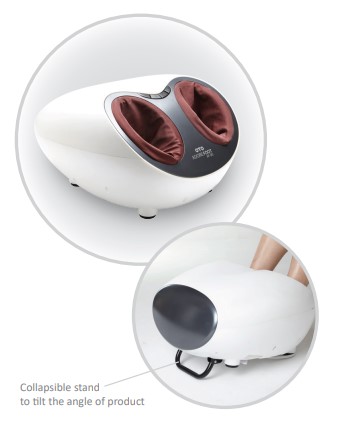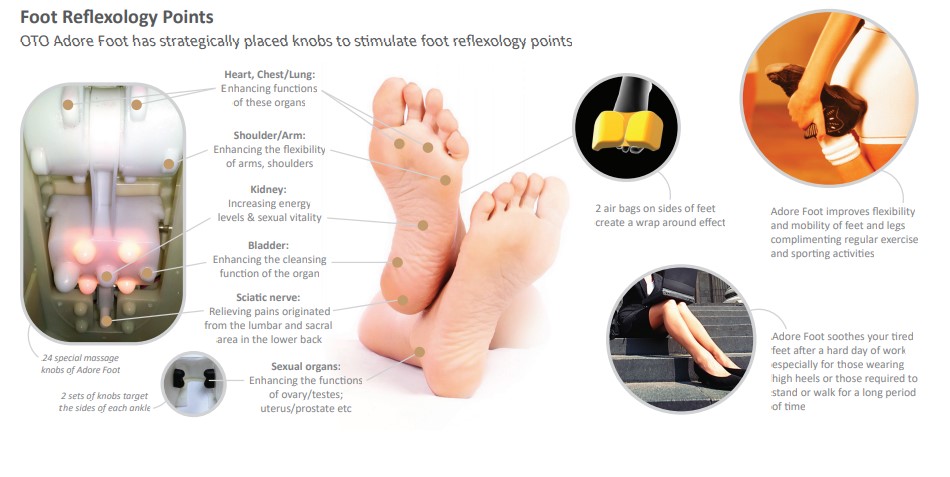 • Home and office use
• Comes with internatonal voltage and so it
can be used in any part of the world
• Soothing heat therapy
• 3 special massage modes, 2 levels of intensity
• A compact and adorable design
• Tilt the angle of product to suit individual needs
• Changeable cloth cover
• Provides intensive and impactul stmulaton
to the foot reflexology points
• Improves blood circulaton in feet and legs
• Relieves stff and aching muscles
• Improves flexibility and mobility of feet
• Heat therapy relieves cold and numb feet
OTO Adore Foot warm is an all-in-one foot massage machine in Bangladesh to give you a refreshing and energetic foot massage.
Key Feature
1. 2 sets of massage knobs on each ankle side
2. Total 24 knobs of different sizes and shapes
3. Easy to start button
4. 4 airbags
5. Collapsible stand
Specifications
• Model Name: OTO Adore Foot Warm
• Model Number: AFW-90
• Auto Timer: 15mins
• Power Consumption: 35W
• Power Input: 100-240V~, 50-60Hz
• Net Weight: Approx. 5.5 / 7.0kg
• Warranty: 6 Month
Benefits
1. Massage knobs cover different reflexology focuses on the sole of each foot.
2. Knobs that target k3 and k6 points increase reproductory functions.
3. Sole kneading, arch scrubbing, and unique heel massage.
4. 3 levels of intensity with 3 special massage modes provides Soothing heat therapy.
5. Airbags hold the feet firmly and give an enhanced massage experience.