ADJUSTABLE CYCLING INTENSITY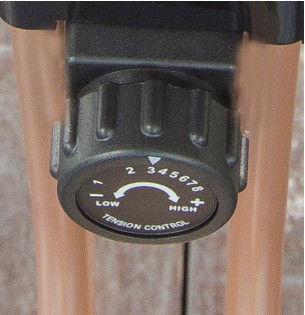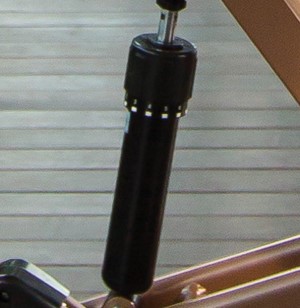 ADJUSTABLE ROWING INTENSITY
Row with unique handle bar to train your upper body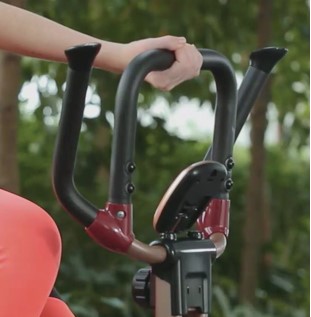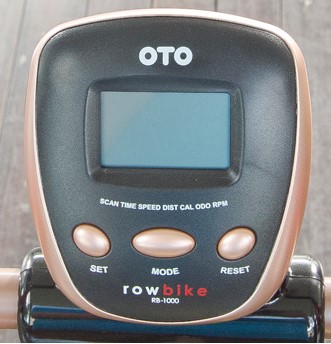 Allows you to set exercise targets in a motivating count-down format
With adjustable seat and different exercise intensities it suit all ages.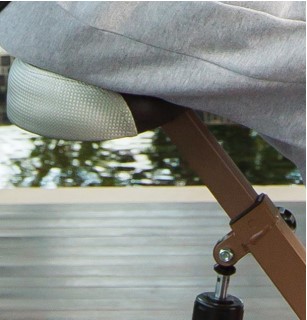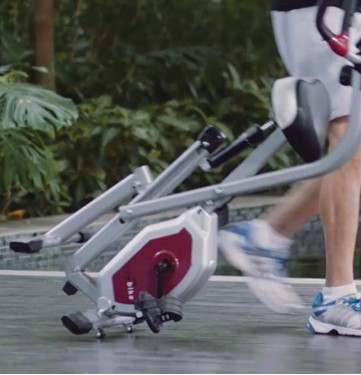 fold it to save space and move it with the castor wheels anywhere.
WHY IS ROW BIKE EXERCISE GOOD FOR YOU?
Studies showed that cycling with minimum 2000 calories burnt has positive impact on diabetic condition.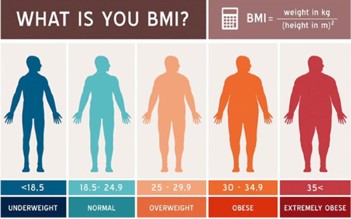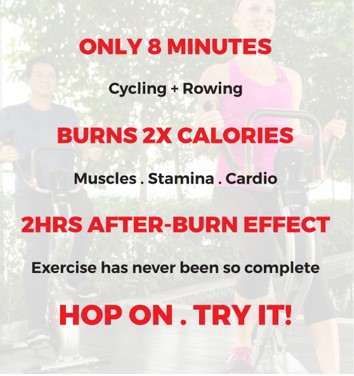 8 minutes work-out easily burns
50-100 calories.
 Burn double amount of calories through dual exercises.
Simultaneous upper & lower body exercises,enhances body & mind co-ordination.
Strengthen back, shoulder & neck muscles. Enhances protection on the vertebra, preventing back and neck injuries and discomforts.
Dual exercises, creating after-effect of up to 2 hours.
Adjust seat to the height of hip bone,
allowing full stretch on the leg and
exercise the knee joints.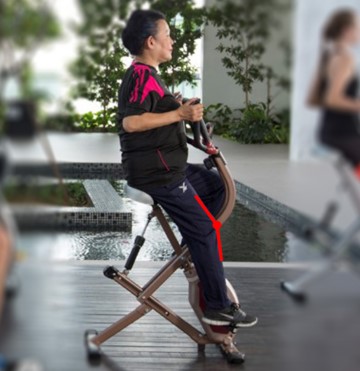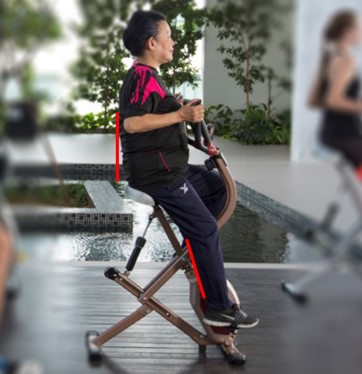 Keep body upright during rowing exercise helps to strengthen back muscle, protects vertebra, prevent back injuries.
Rowing exercise also strengthen neck & shoulder muscles, prevent stiff neck and frozen shoulder.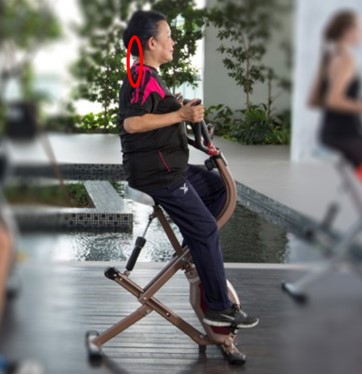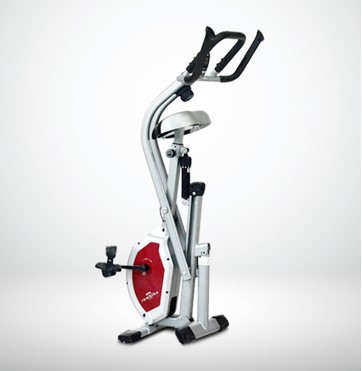 1000(L) x 520(W) x 1140(H) mm (upright)
400(L) x 520(W) x 1380(H) mm (folded)
The OTO Row Bike is a new product in the fitness market. This is an a new Cycling Machine in BD. It can be used for rowing, cycling, and synchronized-rowing-cycling. Users can adjust the training intensity to suit different fitness levels and ages.
Features
Cycling exercise
8 levels of cycling intensity
12 levels of adjustable rowing intensity
Rowing (pulling up) exercise
Dual exercise – Rowing & Cycling
Unique handle
Easily foldable
Smart monitor
Wheels for easy moving
Adjustable seat
Adjustable tension for cycling speed
Adjustable strength for rowing
Foldable as well as portable
Two machines are combined into one compact frame.
Specifications
Warranty: 6 Months
Model Name: OTO Row Bke
Model Number: RB-1000
Product Weight: 20.29 kgs
Maximum User Weight: 110kg
Batteries: 2 x 1.5V "AAA"
Dimensions: 400(L) x 520(W) x 1380(H) mm (folded) 1000(L) x 520(W) x 1140(H) mm (upright)
How to Do Cycling
There are some rules to follow when cycling. Regular cycling with the right posture is very beneficial.
You can adjust the seat to your hip bone height, which will allow you to stretch your leg and strengthen the knee joints.
Rowing helps prevent stiff necks and frozen shoulders by strengthening neck and shoulder muscles.
Rowing exercises can be done upright to strengthen the back muscles, protect the vertebrae, and prevent injuries.
Benefits
A workout of 8 minutes burns between 50 and 100 calories.
Dual exercises can help you burn twice as many calories. Dual exercises can have an after-effect lasting up to two hours.
Exercises that combine upper and lower bodywork together can improve body and mind coordination.
Stimulate the back, shoulder and neck muscles, protects the vertebrae from injury and discomfort by increasing protection.
The OTO Row Bike is a great addition to any athlete's workout program. It helps anyone, from long-distance runners to weightlifters or ballplayers, improves their skills.
Strength training and cardiovascular training complement each other, conditioning the body in different ways but all interrelated. Get the OTO Row Bike's support to make your body strong.